The Good and the True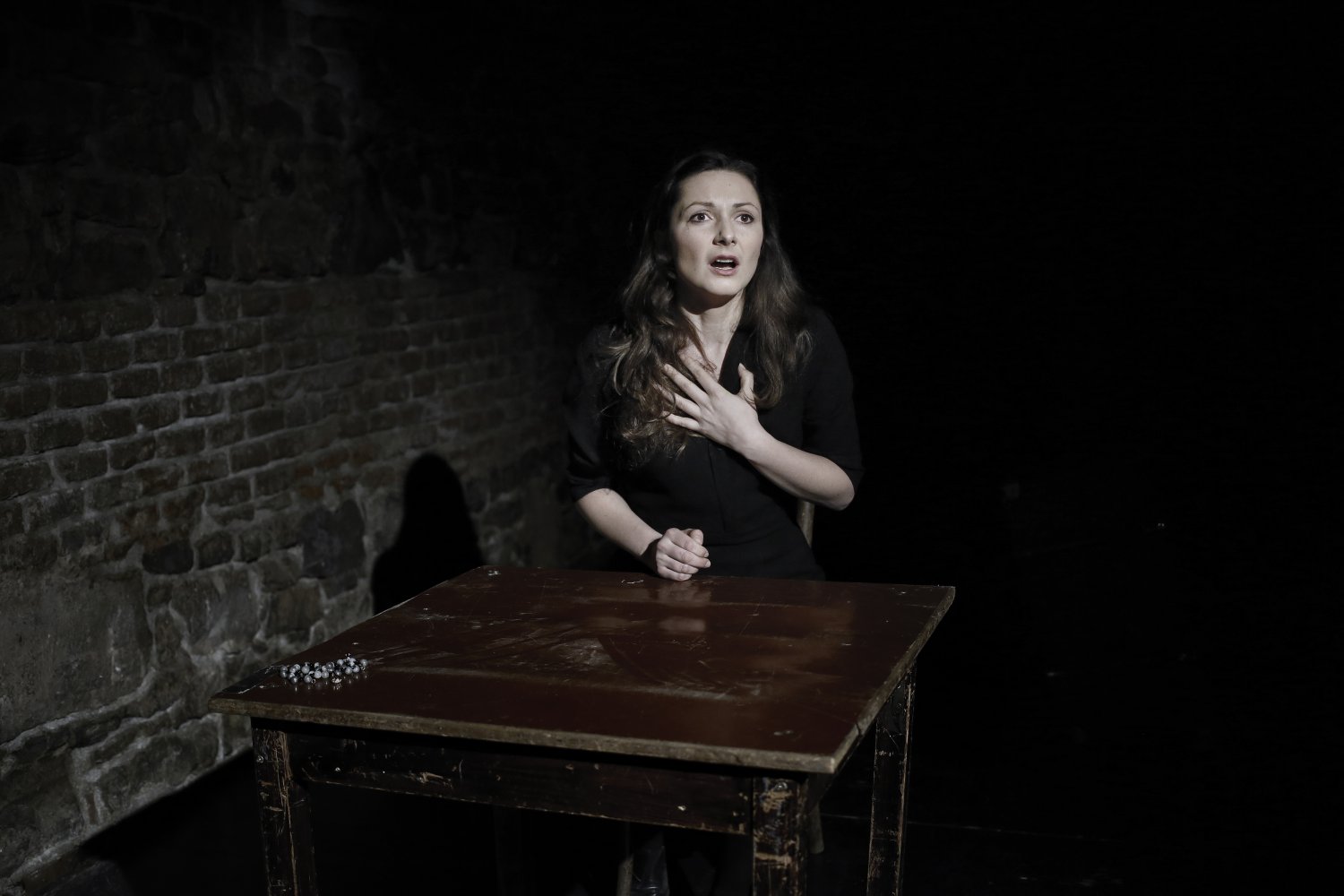 IN ENGLISH
This is the story of two people who went through the same places and experienced similar tragedies – and yet they never met. The paths of their lives crossed each other, but also passed each other by. Athlete Miloš Dobrý and actress Hana Pravdová spent their working lives building suspense, knocking crowds into submission and drawing gasps from onlookers. Both survived Auschwitz and were first-hand witnesses to murder. Did they possess exceptional strength of character and an iron will, or was their survival just "good luck"? A remarkable piece of verbatim theatre, The Good and the True weaves the true testimonies of two extraordinary people into an English-language adaptation of the award-winning Shoah, directed by Daniel Hrbek for Prague's Švanda Theatre. Actress Isobel Pravda is the granddaughter of survivor Hana Pravdová; she plays her grandmother for the first time on stage. Actor Saul Reichlin is an award-winning actor whose own one-man play Sholom Aleichem has been performed in the West End, on Broadway and in most major European countries.
Supported by Czech Centre London, the Czech Ambassador and the Embassy of the Czech Republic, the Ministry of Culture of the Czech Republic, and the City of Prague. Thanks to Alex Pravda and his family, Miloš Dobrý and his family, Tomáš Hrbek, and the Olomouc Jewish Community.
CHARACTERS AND CAST
Miloš Dobrý: Saul Reichlin
Hana Pravdová: Isobel Pravda

PRODUCTION TEAM
Compiled from authentic testimonies and according to the book Short Stories from a Long Life by:
Tomáš Hrbek, Lucie Kolouchová, Daniel Hrbek
ENGLISH ADAPTATION: Brian Daniels
DIRECTOR: Daniel Hrbek
STAGE DESIGN AND COSTUMES: Daniel Hrbek
DRAMATURGY: Lucie Kolouchová
SOUND DESIGNER: Martin Hejl
LIGHT DESIGNER: Kieran Dicker 
ASSISTANT TO DIRECTOR: Julek Neumann
Produced by: Švanda Theatre and New End Theatre Beyond
Hana Pravdová
Hana Pravdová was born Hana Becková in Prague on January 29, 1916. Her father Josef Beck was an architect and former Czech legionnaire. She studied drama under Olga Scheinpflugová and Karel Dostál, and acquired her first engagement at the Olomouc Theatre. In 1937, its director Oldřich Stibor sent her on a one-year study visit to work with Aleksei Dikiy at Leningrad's Great Drama Theater. After her return in 1938, she was engaged at the Kladno Theatre and appeared as a guest performer at the Vinohrady Theatre, the National Theatre, and the Švanda Theatre. During this time, she also created several films, including Marijka the Unfaithful and The First Kiss. Her promisingly developing career was interrupted by the Second World War. She was first transported to Terezin and later to Auschwitz, where her first husband Alexander Munk died in 1945.
Hana herself managed to escape from a death march at the war's end. In 1945, now using the stage name Hana Alexandrová, she returned to the Švanda Theatre (renamed the Realistic Theatre), where she met her second husband, actor Jiří Pravda. In 1949, they emigrated to Australia with their one-year-old son. They later settled in London, where they were active in film, theatre, and television. Jiří (who now called himself George) acted at prestigious theatres such as the Old Vic, alongside great actors such as Laurence Olivier. Besides acting, Hana Pravdová also worked as a director at small London theatres. George Pravda died in 1985. Hana Pravdová, known in England as Hana Maria Pravda, visited Bohemia (primarily Prague) several times after 1989. She died in London on May 22, 2008.
Miloš Dobrý
Miloš Dobrý was born Miloš Gut in Prague on January 31, 1923. After Bohemia and Moravia were declared a German protectorate, he was expelled from school because of his Jewish background. In November 1941, he was sent on the first transport to Terezin as part of the camp's Aufbaukommando ("construction commando"). His parents and brother Josef were transported to the camp in 1942. Here, he met his future wife Zuzana Beckmannová. In December 1943, Dobrý was transported to Auschwitz, and in July 1944 he was moved to a labor camp in Schwarzheide. Later, he and his brother Josef survived the death march. His parents and almost all his relatives died in concentration camps.
Zuzana Beckmannová survived her ordeal and married Dobrý in 1949. They had two children. Back in Prague, he studied inorganic chemistry with a specialization in cement and started to play rugby for LTC Praha. He was so good at rugby that he became a member of the national team, with which he played many matches. In 1990, he was named the president of the Rugby Union. During this time, he also held lectures on the Holocaust at schools. Zuzana Dobrá, born Beckmannová, died in 2010. She had two children with Miloš. Miloš Dobrý died on November 23, 2012.
The performance was put on stage in The UK (Leeds, London, Mansfield, Sunderland), Belgiem (Brussels), USA (Washington, New York).