Daniel Hrbek
Death Suits Him (Smrt mu sluší)
Love your critic or just kill him. Original comedy from a theatre environment.
Švandovo Theatre Ensemble
| | |
| --- | --- |
| Show Length: | 2 hrs 30 min including intermission |
| Director: | Daniel Hrbek |
| Cast: | Michal Dlouhý, Kamil Halbich, David Punčochář, Robert Jašków, Miroslav Hruška, Natálie Řehořová |
| Premiere Date: | 25. 5. 2019 |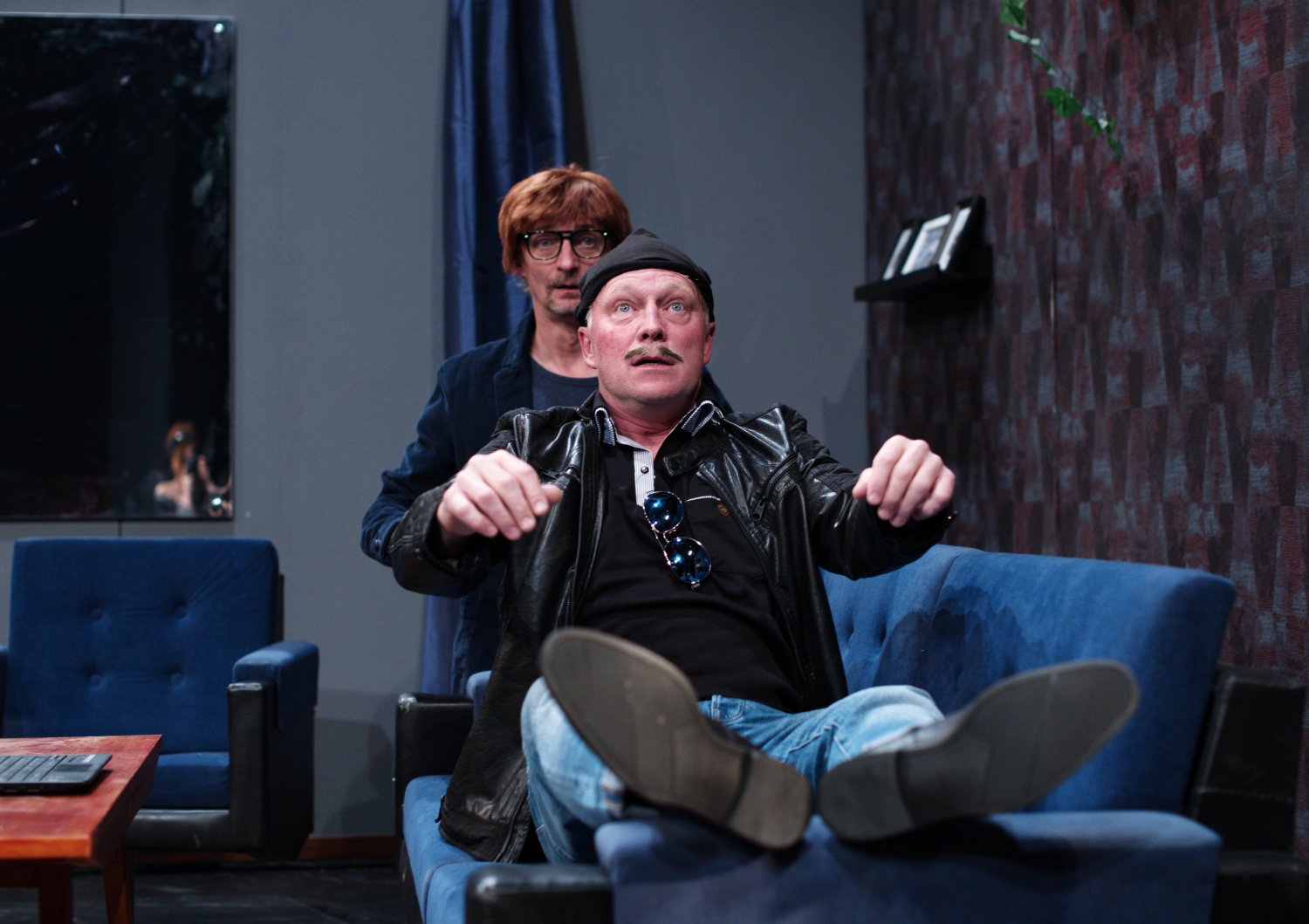 Upcoming Performances
Bob Barel is a sitcom actor loved by audiences and a theatre actor hated by critics. He is currently one step from receiving the Thalie Best Actor Award. There is only thing standing between him and the award - the vote from a dreaded critic, who in his free time organizes concerts in the flat theatre style of Vlasta Chramostová. Bob's loyal friend and agent Kamil is ready to help him win the vote and their methods of persuasion are quite lethal.
This comedy written for Švanda Theatre offers an uncompromising insight into the depths of theatre, where the longing for success often equals the struggle for survival. No one is spared - from the good-hearted porter, to the dramaturgist longing for love like from canonical titles, to the director who needs to lead with an iron fist a company where everyone wants to be friends.
Forget House of Cards - This is theatre!
CHARACTERS AND CAST
NATIONAL THEATRE DIRECTOR: Robert Jašków
BOB BAREL, ACTOR: Michal Dlouhý
KAMIL KŘOVINA, BAREL'S AGENT: Kamil Halbich
JOLANA, NATIONAL THEATRE DRAMATURGE: Natálie Řehořová
DAVID HARTMANN, THEATRE REVIEWER: David Punčochář
MIREČEK, NATIONAL THEATRE PORTER: Miroslav Hruška
PRODUCTION TEAM
DIRECTOR: Daniel Hrbek
DRAMATURGY: David Košťák
STAGE DESIGN: Petr Masopust
COSTUMES: Paulína Bočková
MUSIC: Daniel Hrbek
PRODUCTION: Jitka Dvořáková
STAGE MANAGER: Blanka Popková
ASSISTENT TO DIRECTOR: Josef Doležal
References
Nad Národním divadlem létá rakev a nad Švandovým krouží kritici
ČT24
More
Ta smrt mu zkrátka sluší…
Janka Mišúnová, kultura21.cz
More
Daniel Hrbek
Death Suits Him (Smrt mu sluší)
Švandovo Theatre Ensemble
| | |
| --- | --- |
| Show Length: | 2 hrs 30 min including intermission |
| Director: | Daniel Hrbek |
| Cast: | Michal Dlouhý, Kamil Halbich, David Punčochář, Robert Jašków, Miroslav Hruška, Natálie Řehořová |
| Premiere Date: | 25. 5. 2019 |