Lev Nikolajevič Tolstoj, Martin Františák
Anna Karenina
The adaptation of the legendary novel tells the story of a married woman who decides to leave her conformist life and risk permanent loss due to her newfound passion.
Švandovo Theatre Ensemble
| | |
| --- | --- |
| Show Length: | 3 hrs 05 min including intermission |
| Director: | Martin Františák |
| Cast: | Hana Briešťanská, Kamil Halbich, Jakub Tvrdík, Anežka Šťastná, Mark Kristián Hochman, Jacob Erftemeijer, Nataša Bednářová, Jan Grundman, Matěj Anděl, Anna Grundmanová, Alena Štréblová, Miroslav Hruška, Jan Mansfeld, David Punčochář, Matěj Polák, Viktor Sekanina/Štěpán Uhlíř |
| Premiere Date: | 4. 11. 2023 |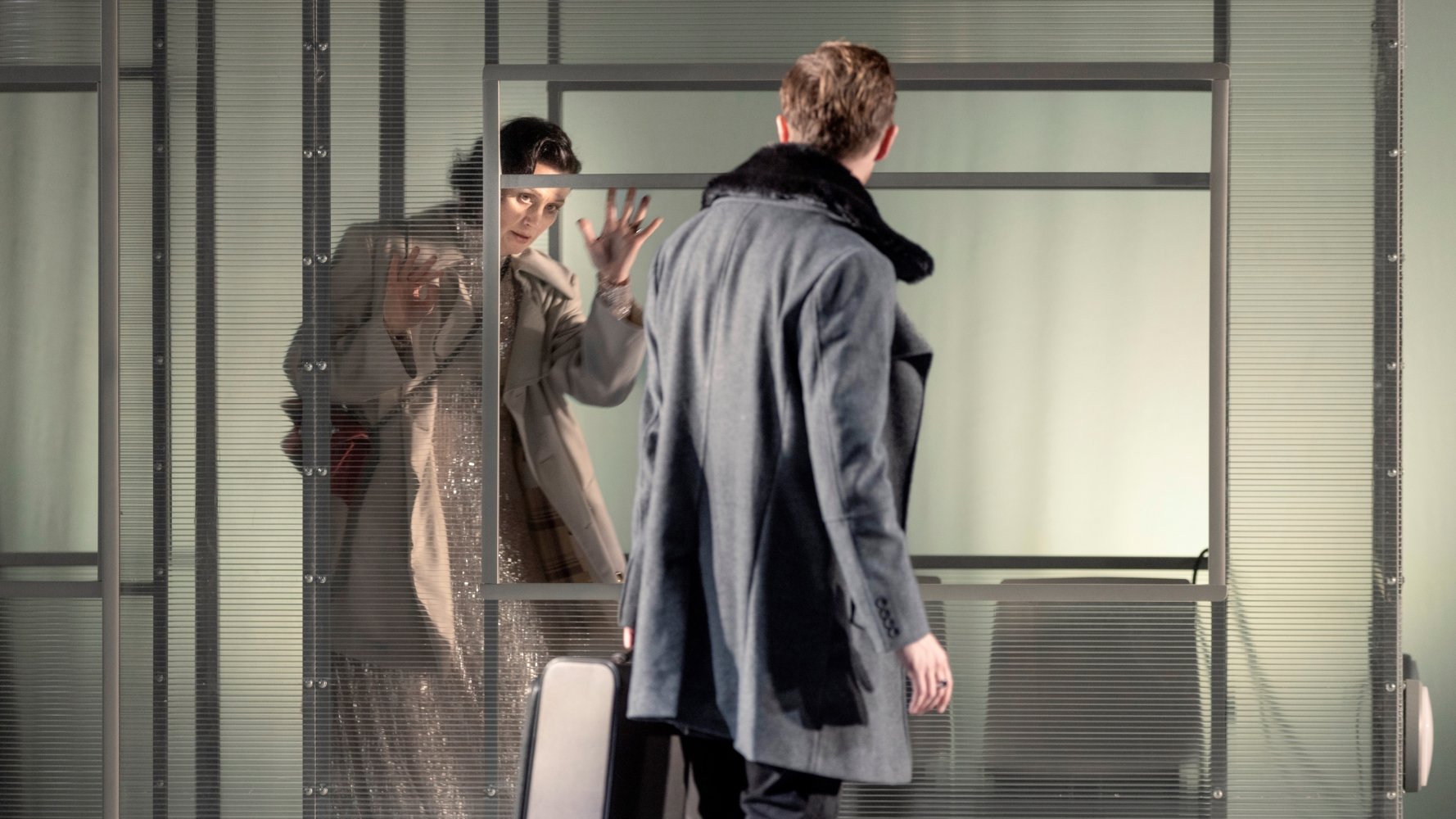 When Anna Karenina meets Officer Vronsky, she discovers her youth, which she was forced to sacrifice prematurely when she took the role of wife and mother. She is determined to run away from her family, lose her comfortable and binding social status, and face the scorn of her former friends. But rather than a new beginning, her decision brings her disillusionment with repetitive partner patterns and the shallowness of happiness provided by the blind pursuit of romantic ideals. Konstantin Levin loves, worries about the future of his nation, and although he is full of strength and simple happiness within reach, he constantly thinks about death. Anna's and Levin's story run side by side, dramatically intersecting and diverging again like train tracks that carry us away from our loved ones or back home.
The dramatization points to the hypocrisy of an individualistic society that swears by morality while lacking basic spiritual values ​​and unable to communicate directly and intelligibly.
CHARACTERS AND CAST
KONSTANTIN LEVIN: Jakub Tvrdík
NIKOLAJ LEVIN: Jan Grundman
SERGEJ LEVIN: Matěj Anděl
ANNA KARENINA: Hana Briešťanská
ALEXEJ KARENIN: Kamil Halbich
ALEXEJ VRONSKIJ: Mark Kristián Hochman
STIVA OBLONSKIJ: Jacob Erftemeijer
DARJA DOLLY OBLONSKA: Nataša Bednářová
KATEŘINA KITTY ŠČERBACKA: Anežka Šťastná
PRINCESS ŠČERBACKA/COUNTESS LYDIA IVANOVNA: Alena Štréblová
MÁŠA KRICKIJ: Jan Mansfeld
COUNT ŠČERBACKY/GENERAL: Miroslav Hruška
JELIZAVETA BETSY TVERSKA: Anna Grundmanová
KOLOŤUK: David Punčochář
SERVANT: Matěj Polák
SERJOŽA: Viktor Sekanina, Štěpán Uhlíř
PRODUCTION TEAM
ADAPTATION AND DIRECTOR: Martin Františák
TRANSLATION: Taťjana Hašková
DRAMATURGY: Marie Nováková
STAGE DESIGN AND COSTUMES: Marek Cpin
MUSIC: Aid Kid (Ondřej Mikula)
LIGHT DESIGN: Martin Špetlík
STAGE MANAGER AND ASSISTANT TO DIRECTOR: Petra Štanclová
PRODUCTION: Tereza Marková

We would like to thank Tomáš Sýkora and Šimon Veselý for their cooperation on the musical component of the production.
References
Lev Nikolajevič Tolstoj, Martin Františák
Anna Karenina
Švandovo Theatre Ensemble
| | |
| --- | --- |
| Show Length: | 3 hrs 05 min including intermission |
| Director: | Martin Františák |
| Cast: | Hana Briešťanská, Kamil Halbich, Jakub Tvrdík, Anežka Šťastná, Mark Kristián Hochman, Jacob Erftemeijer, Nataša Bednářová, Jan Grundman, Matěj Anděl, Anna Grundmanová, Alena Štréblová, Miroslav Hruška, Jan Mansfeld, David Punčochář, Matěj Polák, Viktor Sekanina/Štěpán Uhlíř |
| Premiere Date: | 4. 11. 2023 |