Thomas Vinterberg, Tobias Lindholm, Claus Flygare
Another Round (Chlast)
Man is born with half a per mille of alcohol too little to be happy. It is time for change! A cruel Scandinavian comedy.
Švandovo Theatre Ensemble
| | |
| --- | --- |
| Show Length: | 2 hrs 25 min including intermission |
| Director: | Thomas Zielinski |
| Cast: | Petr Stach, Jacob Erftemeijer, Robert Jašków, Tomáš Petřík |
| Premiere Date: | 29. 4. 2023 |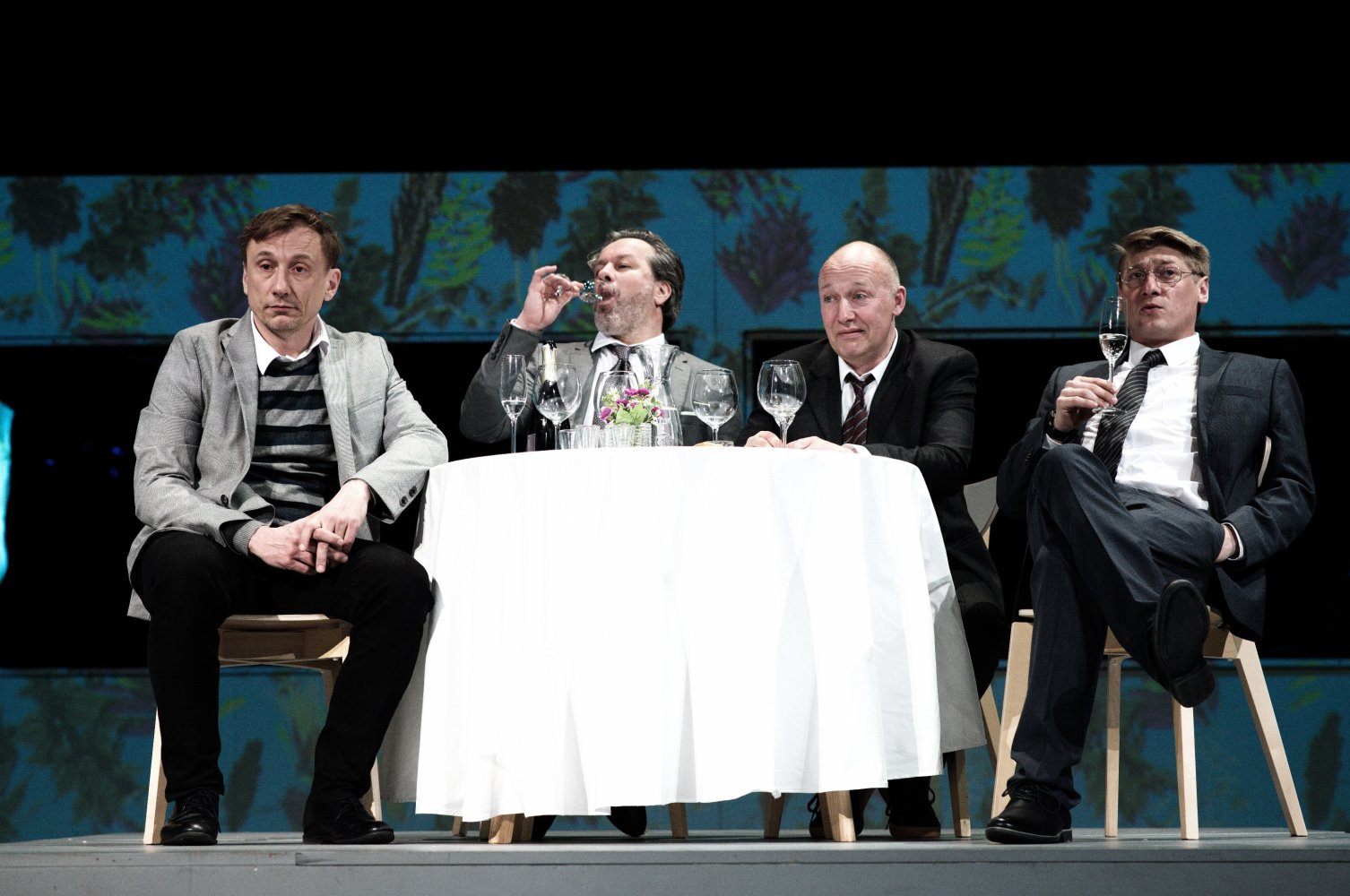 Four friends, high school teachers (history, music, physical education and psychology) have long ago resigned from their work goals and life dreams. They are burnt-out and lingering in the monotonous stereotype of their daily duties. Until one day, at the 40th birthday party of the youngest of the four, they learn about a peculiar theory of a Norwegian philosopher. It claims that people are born lacking half a per mille of alcohol in their blood. Supplementing will immediately make life more colorful, people will become more self-confident, more creative and generally more satisfied and happy. Due to the stagnation of their lives in the work and private spheres, as well as the persisting resignation to all their life goals and dreams, they decide to verify this experiment in practice. There must be something to it, after all Winston Churchill, Arthur Rimbaud, Ernest Hemingway, Franklin Delano Roosevelt, Jackson Pollock, Charles Bukowski and many others had alcohol in their blood practically all the time. Martin, Nikolaj, Peter and Tommy buy alcohol and breathalyzers and the experiment can begin… It seems that the theory really proves itself! So what about increasing the doses? Logically, all those positive results should become increased. One could even reach the so-called ignition!
Screenplay and theatrical adaptation co-author and director of the Oscar-winning film of the same title, Thomas Vinterberg, is one of the most outstanding personalities of Scandinavian cinematography and drama. He was one of the founders of the Dogma 95 movement and is the co-author and director of, eg. The Celebration or The Hunt. The film version of Another Round won the Oscar for the best foreign language film of 2020.
A cruel Scandinavian comedy in which they all end up dancing... But at what cost?!
CHARACTERS AND CAST
MARTIN, history teacher: Petr Stach
NIKOLAJ, psychology teacher: Jacob Erftemeijer
PETER, music teacher: Tomáš Petřík
TOMMY, PE teacher: Robert Jašków
PRODUCTION TEAM
TRANSLATION: Michaela Weberová
DIRECTOR: Thomas Zielinski
DRAMATURGY: Martina Kinská
STAGE DESIGN: Lukáš Kuchinka
COSTUMES: Andrea Králová
PROJECTIONS: Jakub Krejčí
CHOREOGRAPHY: Jana Burkiewiczová
STUNT RIGGING: Jan Kohout, Marek Czukás 
PROFESSIONAL CONSULTATION: MUDr. Jakub Šimek
ASSISTANT TO DIRECTOR AND STAGE MANAGER: Petra Štanclová
PRODUCTION: Tereza Marková
The play is presented with the permission of Nordiska Aps., Copenhagen, Denmark.
We thank Ondřej Nosek and the band Voj & 3ska for editing and dedicating their song to the production.
Copyright in the Czech Republic is represented by Aura - Pont, s. r. o., Veslařský ostrov 62, 147 00 Prague 4.
References
Thomas Vinterberg, Tobias Lindholm, Claus Flygare
Another Round (Chlast)
Švandovo Theatre Ensemble
| | |
| --- | --- |
| Show Length: | 2 hrs 25 min including intermission |
| Director: | Thomas Zielinski |
| Cast: | Petr Stach, Jacob Erftemeijer, Robert Jašków, Tomáš Petřík |
| Premiere Date: | 29. 4. 2023 |