George Orwell, Dodo Gombár
1984
System or love? Love the system! Theatrical adaptation of the cult novel.
Švandovo Theatre Ensemble
| | |
| --- | --- |
| Show Length: | 3 hrs including intermission |
| Director: | Dodo Gombár |
| Cast: | David Punčochář, Tomáš Petřík, Anežka Šťastná, Miroslav Hruška, Andrea Buršová, Matěj Anděl, Marek Frňka, Jan Mansfeld, Jacob Erftemeijer |
| Premiere Date: | 28. 1. 2023 |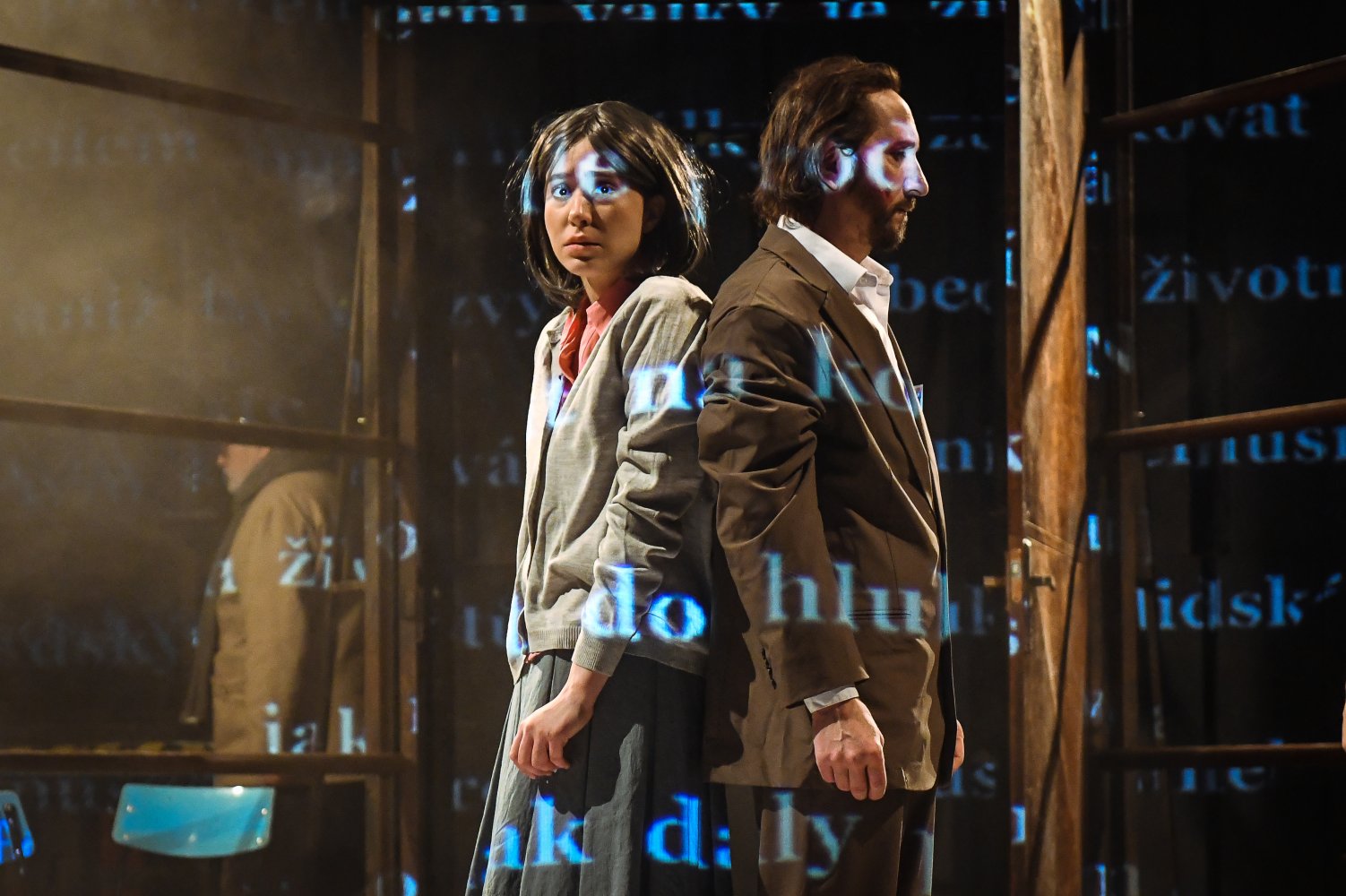 Upcoming Performances
The anti-utopian novel by the British writer and journalist George Orwell was written in 1948 and first published a year later. It soon became, not only thanks to its dark visionary, one of the key works of world literature.
Winston Smith, an official of the Ministry of Truth, a tired middle-aged man, has always been a reliable member of society - he worked properly, spent his free time according to the rules, never doubted anything. Until now... Something inside of him makes him buy a notebook and start writing a journal. Something in him began to wonder about the past. Search in his memories. Doubt. Is his country really at war or is it simply a tool of manipulation through a constant sense of fear and threat? And what if the past differs from what is presented to them? He knows well how consistently news, photos and statements are edited. How dogmatically the language is truncated. What is there to be done with slogans such as: War is peace. Freedom is slavery. Ignorance is strength?
There is no one not be feared. There is not a single place not being watched. There is nothing that escapes Big Brother's attention. Except for my own thoughts. Except for the feelings that one person has for another. Not all is lost. At least until the Ideopolice intervenes. Winston Smith is in love with young Julia. He also has O'Brien nearby. And all three dream of rebellion. Perhaps they have already started! One day they will meet in a place where there is no darkness.
Orwell's novel is a brilliant analysis of totalitarian systems, an analysis of power based on lies... For too long have we hoped that nothing similar would be of concern to us anymore, before we start to realise, doubt and question. Before we begin to understand that the backdrops of the absurd and destructive spectacle have only been ingeniously changed. And that today we purchase our "screens", the eyes of Big Brother, voluntarily, and by doing so we even feel privileged.
Kindly note that gun fire effects are used during the show.
CHARACTERS AND CAST
WINSTON SMITH: David Punčochář
O'BRIEN: Tomáš Petřík
JULIE: Anežka Šťastná
CHARRINGTON: Miroslav Hruška
PARSONS, MOTHER, KATHARINE and others: Andrea Buršová
TILLOTSON and others: Matěj Anděl
YOUNG, CHILD 1 and others: Marek Frňka (originally Petr Kult)
SYME, CHILD 2 and others: Jan Mansfeld
PARSONS and others: Jacob Erftemeijer
PRODUCTION TEAM
DIRECTOR: Dodo Gombár
TRANSLATION OF THE NOVEL: Eva Šimečková
DRAMATURGY: Martina Kinská
STAGE DESIGN AND COSTUMES: Jaroslav Milfajt
MUSIC: Gabriela Vermelho
CHOREOGRAPHY: Adam Mašura
ASSISTANT TO DIRECTOR AND STAGE MANAGER: Petra Štanclová
PRODUCTION: Tereza Marková
References
George Orwell, Dodo Gombár
1984
Švandovo Theatre Ensemble
| | |
| --- | --- |
| Show Length: | 3 hrs including intermission |
| Director: | Dodo Gombár |
| Cast: | David Punčochář, Tomáš Petřík, Anežka Šťastná, Miroslav Hruška, Andrea Buršová, Matěj Anděl, Marek Frňka, Jan Mansfeld, Jacob Erftemeijer |
| Premiere Date: | 28. 1. 2023 |