Martin Crimp, Edmond Rostand
Cyrano de Bergerac
The word as a means of love. The word as a weapon. A new transcript of a romantic story in a beat box rhythm.
Švandovo Theatre Ensemble
| | |
| --- | --- |
| Show Length: | 2 hrs 50 min including intermission |
| Director: | Martin Františák |
| Cast: | Luboš Veselý, Petr Kult/Dominik Teleky, Natálie Řehořová, Bohdana Pavlíková, Robert Jašków, Tomáš Petřík, Jan Grundman, Matěj Anděl, Matěj Polák, David Punčochář, Anna Grundmanová, Jan Mansfeld, Marek Frňka, Adam Joura/Eliáš Jeřábek, a další |
| Premiere Date: | 18. 9. 2021 |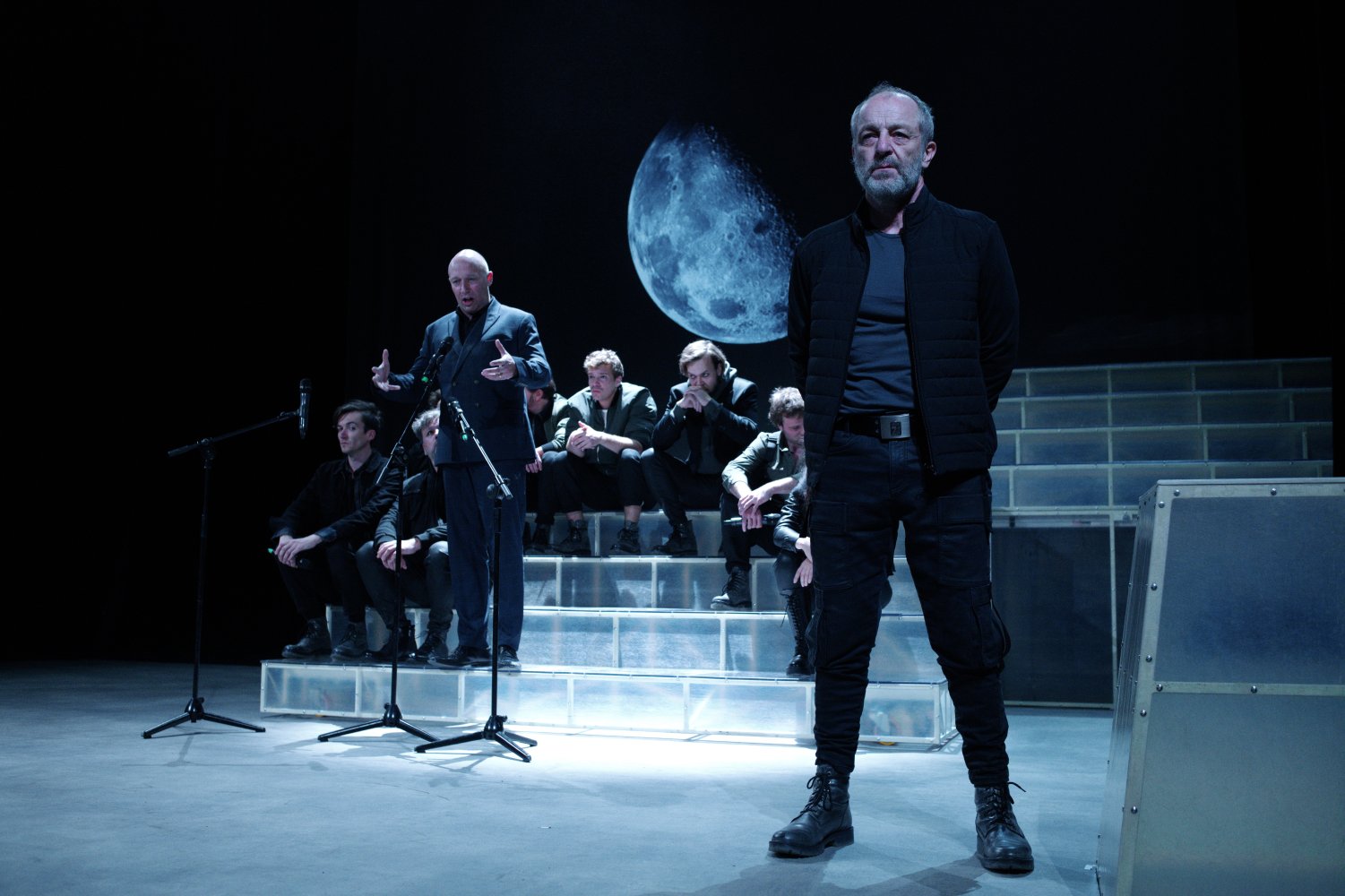 Upcoming Performances
A story of one of the most famous love triangles is performed in the Švanda Theatre in a reimagination by Martin Crimp, just few months after its world premiere at the London Playhouse Theater. The adaptation of the acclaimed British playwright retains all the motifs of the original work of Edmond Rostand, but deprives them of a romantic ornament. He forgets alexandrine and speaks to the contemporary viewer with the passionate poetry of today and varies from rap, through free verse to linguistic minimalism.
A gripping love story from Paris in the 17th century, in which love hides behind poetry, heroic deeds fall under the layer of noble words and under the mumble of cafe philosophy, war is rampant.
Even those who have never read or seen Rostand's drama certainly know the situation in which the main hero prompts verses under the cover of night, through which the young Christian expresses love to the beautiful Roxana. And in his transcription, Crimp exposes the very power of those who rule by word. Power to create a new form of reality, power to manipulate. For him, the word is a means that can ignite love, but also incite hatred.
Kindly note that actors smoke on stage during the show.
CHARACTERS AND CAST
CYRANO: Luboš Veselý
LEILA RAGUENEAU: Bohdana Pavlíková
ROXANA: Natálie Řehořová
CHRISTIAN: Petr Kult/Dominik Teleky
LE BRET: Tomáš Petřík
LIGNIÈRE: Jan Grundman
DE GUICHE: Robert Jašków
VALVERT: Matěj Anděl
MONTFLEURY: Matěj Polák (originally Petr Buchta)
THEATRE DIRECTOR/CHAPLAIN: David Punčochář
MARIE-LOUISA: Anna Grundmanová
CARDINAL RICHELIEU: Marek Frňka
CADETS/STUDENTS: Anna Grundmanová, Matěj Polák, David Punčochář, Matěj Anděl, Jan Mansfeld, Adam Joura/Eliáš Jeřábek 

PRODUCTION TEAM
TRANSLATION: Ester Žantovská
DIRECTOR: Martin Františák
MUSIC: Ivan Acher
STAGE DESIGN: Pavla Kamanová
COSTUMES: Marek Cpin
DRAMATURGY: David Košťák
VOICE ADVISOR: Regina Rázlová
CHOREOGRAPHY ADVISOR: Martin Pacek
ASSISTANT TO DIRECTOR AND STAGE MANAGER: Petra Štanclová
References
Švandovo divadlo nově nastudovalo slavného Cyrana z Bergeracu
ČTK, seznamzprávy.cz
More
Beatboxová romantika. Švandovo divadlo uvedlo novou adaptaci Cyrana z Bergeracu
Markéta Plešková, Pražská drbna
More
Martin Crimp, Edmond Rostand
Cyrano de Bergerac
Švandovo Theatre Ensemble
| | |
| --- | --- |
| Show Length: | 2 hrs 50 min including intermission |
| Director: | Martin Františák |
| Cast: | Luboš Veselý, Petr Kult/Dominik Teleky, Natálie Řehořová, Bohdana Pavlíková, Robert Jašków, Tomáš Petřík, Jan Grundman, Matěj Anděl, Matěj Polák, David Punčochář, Anna Grundmanová, Jan Mansfeld, Marek Frňka, Adam Joura/Eliáš Jeřábek, a další |
| Premiere Date: | 18. 9. 2021 |