Anders Thomas Jensen
Adam's Apples (Adamova jablka)
A black comedy about whether a pastor re-educates a neo-Nazi or the neo-Nazi re-educates the pastor.
Švandovo Theatre Ensemble
| | |
| --- | --- |
| Show Length: | 1 hr 30 min with intermission |
| Director: | Jiří Pokorný |
| Cast: | Robert Jašków, Jacob Erftemeijer, Bohdana Pavlíková, Matěj Anděl, David Punčochář, Miroslav Hruška, Jiří Čapka, Tomáš Červinek, Marek Frňka, Nikos Engonidis, a další |
| Premiere Date: | 19. 6. 2021 |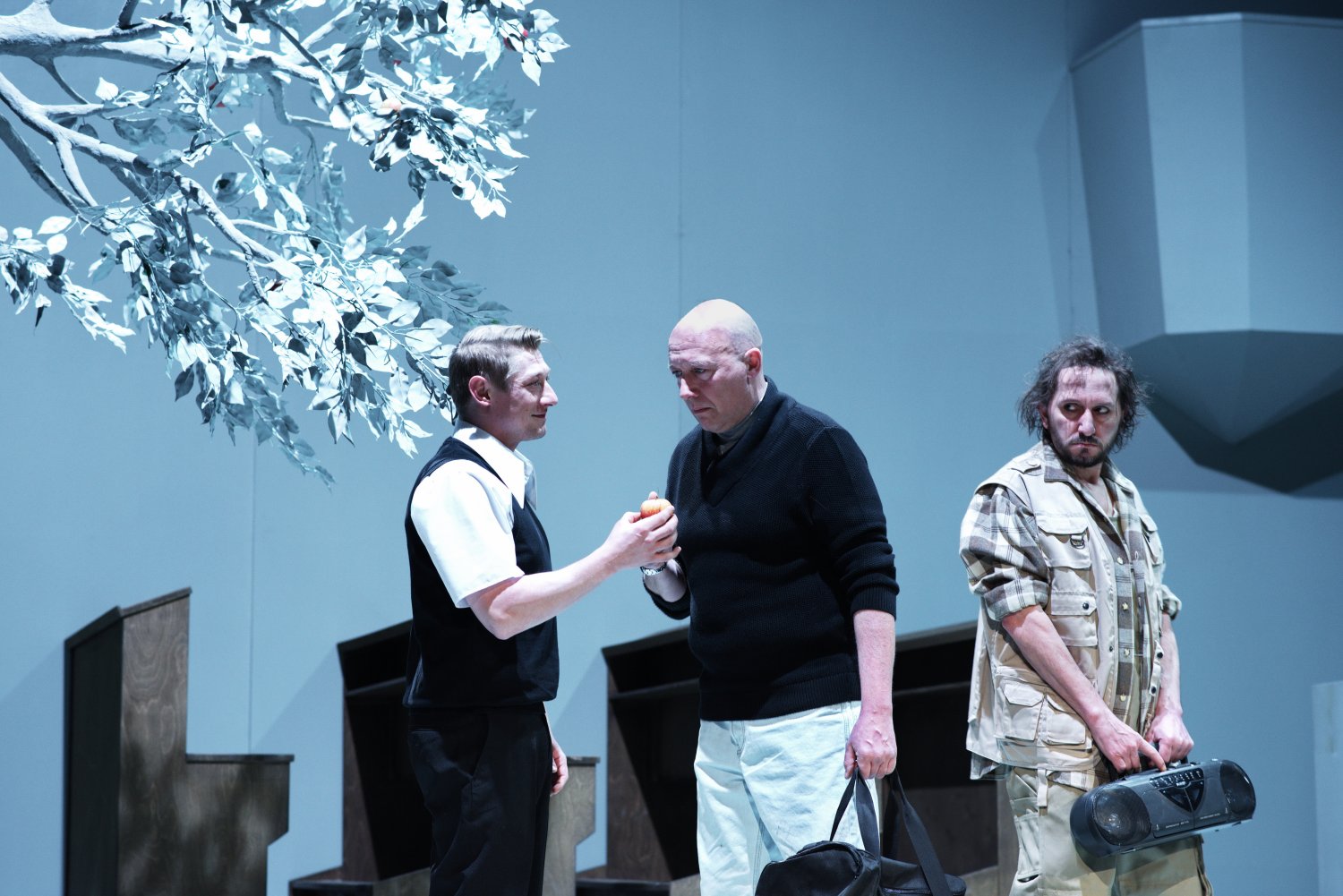 Upcoming Performances
A very black comedy works with unmistakable Nordic poetics, both in the originality of situations, crystalline drama, and in the archetypal symbolism of the clash of good and evil, painful self-knowledge and provocative anarchy of genres.
Pastor Ivan sees only the good in everything and has no doubt that God stands by him. Therefore, it is not a problem for him in his rectory to provide refuge for persons serving alternative punishment and persons seeking pure support and comfort. A very peculiar society will come together: a righteous terrorist, a pregnant alcoholic, a pudgy kleptomaniac. Soon another inhabitant arrives - the neo-Nazi Adam. However, Ivan's speeches do not apply to him. Something is not right here, and it is not just the strange rules that govern the rectory in the microworld. Ivan is distorting many facts so that he can withstand the burden of his own destiny. And Adam decides to force the pastor to admit the true state of things - to see evil and to admit that the one who goes after Ivan is not Satan, but God Himself.
Adam's Apples are the culmination of a trilogy of theatrical adaptations of Nordic films (The Boss of It All? and The Art of Negative Thinking) and undoubtedly the sharpest comedy we have ever presented. Moreover, in the concept of one of the most tumultuous directors of his generation - Jiří Pokorný.
Kindly note that shooting sounds and strobe lights are used during the show.


CHARACTERS AND CAST
ADAM, neo-Nazi: Robert Jašków
IVAN, pastor: Jacob Erftemeijer
SARAH, alcoholic: Bohdana Pavlíková
GUNNAR, alcoholic, kleptomaniac: Matěj Anděl
KHALID, terrorist: David Punčochář
KOLBERG, doctor: Miroslav Hruška
POUL NORDKAP, old nazi: Jiří Čapka
HOLGER, Adam's friend, neo-Nazi: Tomáš Červinek
CHRISTOFFER, Ivan's son: Marek Frňka
MUSICIAN: Nikos Engonidis
neo-Nazis: Karel Zub, Martin Krupa, Jiří Bobysut, Lukáš Kotrbatý/Joseh Raiman

PRODUCTION TEAM
TRANSLATION: Helena Rejžková
DIRECTOR: Jiří Pokorný
DRAMATURGY: Martina Kinská
STAGE DESIGN: Jan Štěpánek
COSTUMES: Jana Hauskrechtová
MUSIC: Nikos Engonidis
LIGHT DESIGN: Šimon Kočí
PRODUCTION: Tereza Marková
STAGE MANAGER AND ASSISTANT TO DIRECTOR: Petra Štanclová
References
Anders Thomas Jensen
Adam's Apples (Adamova jablka)
Švandovo Theatre Ensemble
| | |
| --- | --- |
| Show Length: | 1 hr 30 min with intermission |
| Director: | Jiří Pokorný |
| Cast: | Robert Jašków, Jacob Erftemeijer, Bohdana Pavlíková, Matěj Anděl, David Punčochář, Miroslav Hruška, Jiří Čapka, Tomáš Červinek, Marek Frňka, Nikos Engonidis, a další |
| Premiere Date: | 19. 6. 2021 |