William Shakespeare
Hamlet
Shakespeare as a contemporary family drama with a Scandinavian touch.
Švandovo Theatre Ensemble
| | |
| --- | --- |
| Show Length: | 2 hrs 20 min including intermission |
| Director: | Daniela Špinar |
| Cast: | Patrik Děrgel, Kamil Halbich, Petra Hřebíčková/Klára Cibulková, Zuzana Zlatohlávková/Denisa Barešová, Miroslav Hruška, Marek Pospíchal, Tomáš Červinek, Jacob Erftemeijer, Marek Frňka, a další |
| Premiere Date: | 7. 12. 2013 |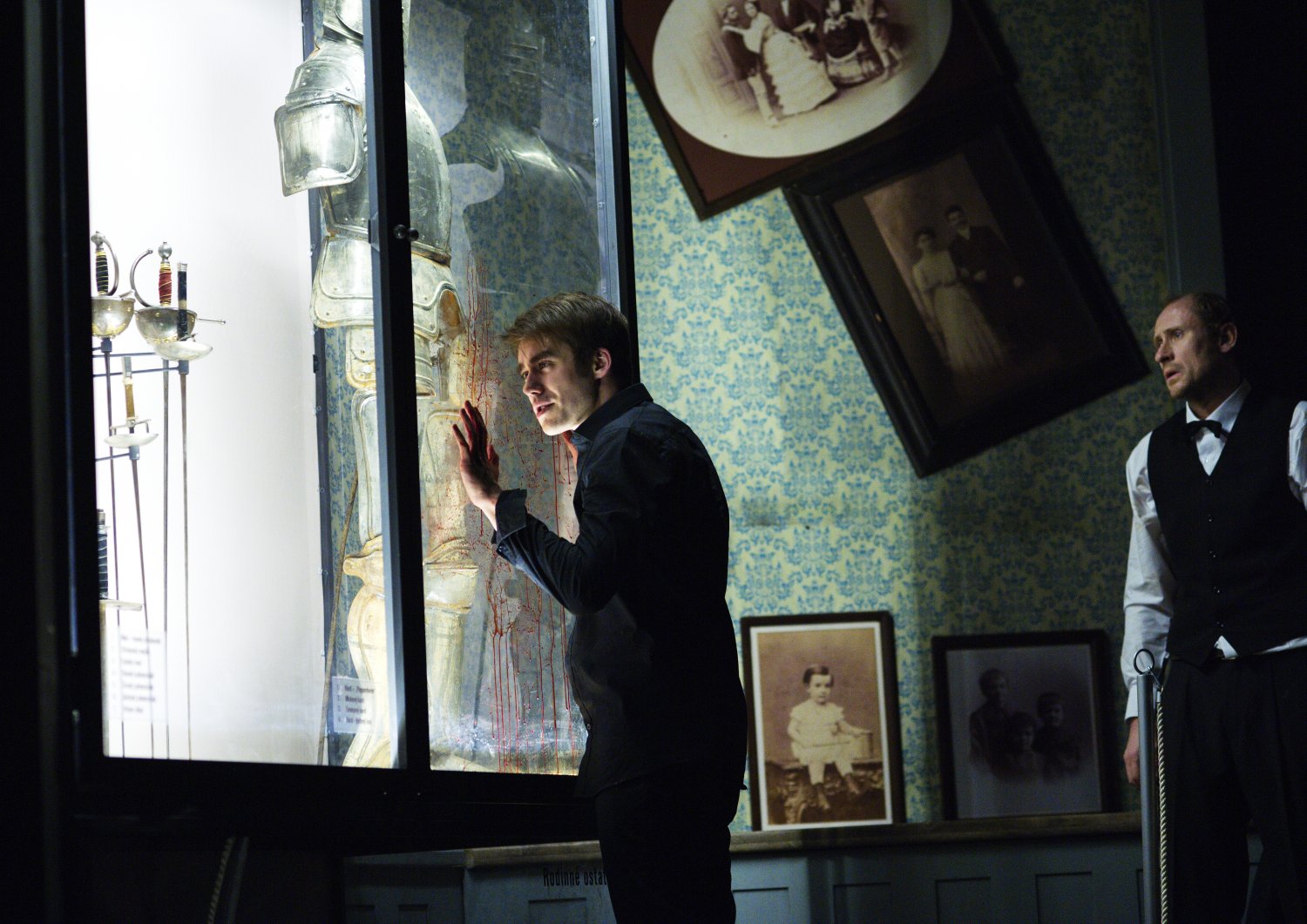 Upcoming Performances
Hamlet directed by Daniela Špinar is a Scandinavian-type family drama.
We are focusing on a story of a boy who lost his father and also mother in way, who remarried shortly after the father's death - it is a true family tragedy, a tragedy of a very much followed royal family.
Everyone can be seen and although the events take place inside the palace, the public is always up to date.
Young Hamlet loved his father, he also loved beautiful and clever Ophelia but then he discovered something one cannot live with. Is it possible to face the cruel truth and keep quiet?
And so it might seem that the Danish prince has gone mad. Yet, as Lord Chamberlain points out - there's method in the madness ...
We probably all know by now that there's no happy ending to this story. 
Hamlet was awarded 4th place in "Anketa divadelních novin".
Kindly note that actors smoke on stage during the show. 
CHARACTERS AND CAST
HAMLET, Prince of Denmark: Patrik Děrgel
CLAUDIUS, King of Denmark, Hamlet's Uncle: Kamil Halbich
GERTRUDE, Queen, Hamlet's Mother: Petra Hřebíčková/Klára Cibulková
POLONIUS, Chamberlain: Miroslav Hruška
LAERTES, Son to Polonius: Tomáš Červinek (originally Filip Čapka)       
OPHELIA, Daughter to Polonius: Zuzana Zlatohlávková/Denisa Barešová 
HORATIO, Friend to Hamlet: Marek Pospíchal
ROSENCRANTZ, Courtier: Marek Frňka (originally Tomáš Kobr)
GUILDENSTERN, Courtier: Jacob Erftemeijer (originally Jaroslav Šmíd)


PRODUCTION TEAM
TRANSLATION: Jiří Josek  
DRAMATURGY: Lucie Kolouchová            
MUSIC: Petr Wajsar
SCENE: Iva Němcová
COSTUMES: Lucia Škandíková
PRODUCTION: Ilona Hájková
STAGE MANAGER: Petra Štanclová
ASSISTANT TO DIRECTOR: Petra Štanclová
References
William Shakespeare
Hamlet
Švandovo Theatre Ensemble
| | |
| --- | --- |
| Show Length: | 2 hrs 20 min including intermission |
| Director: | Daniela Špinar |
| Cast: | Patrik Děrgel, Kamil Halbich, Petra Hřebíčková/Klára Cibulková, Zuzana Zlatohlávková/Denisa Barešová, Miroslav Hruška, Marek Pospíchal, Tomáš Červinek, Jacob Erftemeijer, Marek Frňka, a další |
| Premiere Date: | 7. 12. 2013 |